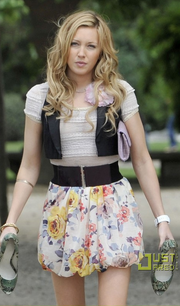 Emma Danielle Perkins
(
Katie Cassidy
) is one of the three main characters of the film who is the quirky best friend of
Grace Bennett
.
She is known for her Sassy but Humorous Personality and "Girly-Girl" dress sences which I personally adore.
Emma is a Waitress / Part-time Catalogue Model who lives in the State of Texas with her fiance Owen.
Emma has many likes & dislikes.
Her likes include Herself, Grace, Owen, Makeup, Shopping, Fashion and Chocolate.
Her dislikes include Meg, Cordelia and Complaining.
Emma has a Big Heart when it comes to her friends and family. She gave one of her tips to Grace's Paris Fund and will always make the most out of her time spent with the people she loves.